Theme Exhibits
The stock certificates from well-known families during the early days in Taiwan.
From the late Qing Dynasty to the Japanese colonial era, savvy Taiwanese businessmen actively invested in the agricultural, mining and transportation businesses with support from the authorities. They gradually became wealthy families with considerable influence in Taiwan.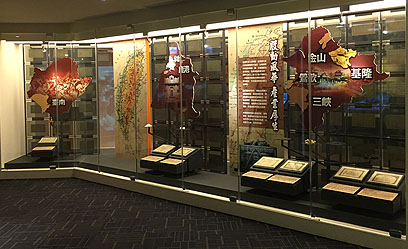 During the late Qing dynasty, investment in tea, camphor and cane sugar propelled the Lin families (of Banqiao and Wufeng respectively) and the Chen family (in Kaohsiung) to great fortune and wealth. The development of the mining industry and strong government-business relations during the Japanese colonial era saw the emergence of the Yen family (in Keelung) and the Gu family (in Lugang). The five families were known collectively as Taiwan's Big Five.
The themed exhibition has been displaying the seven stock certificates belonging to the Yen Family (in Keelung) and the Gu Family (in Lugang) among the Big Five, as well as those of the renowned Chen Family (in Yingge) and the Xin Family (in Tainan) since 22nd Dec. in 2014. This showcase is segregated into northern, central and southern Taiwan. Here is displaying the stock certificates with brief descriptions aside.